"New York, New York"
By Wojciech Szymański
Originally published in "Jednodniówka Muzeum Współczesnego Wrocław" on November 30, 2012. Publication accompanying Karol Radziszewski's America Is Not Ready For This exhibition at Wroclaw Contemporary Museum (30.11.2012–4.02.2013)

http://muzeumwspolczesne.pl/mww/wp-content/uploads/2012/06/Jednoniowka-AisNRFT-druk.pdf


If I can make it there
I'll make it anywhere
It's up to you
New York, New York (1)
In May 1977, when Martin Scorsese's New York, New York premiered, Natalia LL arrived in New York following an invitation by the Kosciuszko Foundation. She went there together with her then-husband, Andrzej Lachowicz, bringing with her three cycles of her works: Consumer Art (1972– 1975), Post-consumer Art (1972–1975) and Artificial Photography (1975). She became acquainted with the local artistic milieu by meeting renowned art dealers (Leo Castelli, Ileana Sonnabend, John Gibson) and artists (Dennis Oppenheim, Hans Haacke, Joseph Kosuth, Carolee Schneemann, Anthony McCall, Colette). During her stay in America, she also travelled to Toronto, where she met Suzy Lake, and took part in a seminar lecture organised by Lucy R. Lippard, who several years earlier, in 1971, had – supposedly – given her a letter with Gisela Kaplan's manifesto, which was then lost in 1997. (2)
The artist's over three-month stay in the United States is not, as it seems, a particularly interesting period for the large number of authors writing on Natalia LL's art and for its researchers. So far only Ewa Małgorzata Tatar has focused on the artist's stay in New York. Tatar notices that it was directly after her return from the Kosciuszko Foundation's scholarship that Natalia LL gave her lecture on feminist art in the Katowice Gallery of the Polish Art Photographers Association (ZPAF); and in the following year, 1978, in the PSP Jatki Gallery in Wrocław, she organised one of the pioneering exhibitions devoted to feminist art in Poland, including her own works as well as those by Noemi Maidan, and Carolee Schneemann and Suzy Lake, whom she had met in the US. (3) The artist herself remembers, and as it appears, treats her stay in New York as one of many episodes in her rich biography, and does not ascribe to it any crucial importance for her work, (4) at the same time stressing the prudishness of America, which was not ready for the form of art that she proposed, which is reflected in the title of Karol Radziszewski's project. (5) The exceptionality of Tatar's observation may well amaze us, if we consider the genesis of Karol Radziszewski's scholarship in the US: thirty-four years after Natalia LL, in 2011, he realised his own project titled America Is Not Ready For This.
Radziszewski, who, between October and December 2011, scoured New York for traces that Natalia LL may have left there in the 1970s, found two inspirations for his project: (1) the direct one was the "banana" iconography, which Radziszewski had referred to earlier following his long‑standing interest in Andy Warhol, (6) and which was also present in Natalia LL's most famous and most frequently reproduced works, i.e. in Consumer Art and Post‑consumer Art; (2) the direct one was a series of photographs documenting an episode during her stay in New York.
This direct reason for Radziszewski's trip to New York and at the same time the direct artistic inspiration for the project America Is Not Ready For This was a collection of photographs published as "Natalia LL at a demonstration for the rights of sexual minorities, New York, 1977," (7) which show the artist holding one of her photographs from the Consumer Art series, against the background of the events in New York at the time. Radziszewski first saw these photographs, which recorded the artist's presence, following what could be called a tourist snapshot convention, at an exhibition titled Animal Art and a Little‑known Episode in Consumer Art, which was held in 86 Gallery in Łódź in late 2007 and early 2008. Interestingly, the exhibition presented the photographs as a work of art, created as a cycle, signed and dated by the artist, as well as titled by her as "Freedom Parade, New York" (1977). They entered critical discourse as "a photographic record of Natalia LL's interference into a public sphere, in a particular context of the street" (8) and were later reproduced in a book by Łukasz Ronduda as well as in a catalogue accompanying the Three Women exhibition organised by Ewa Toniak.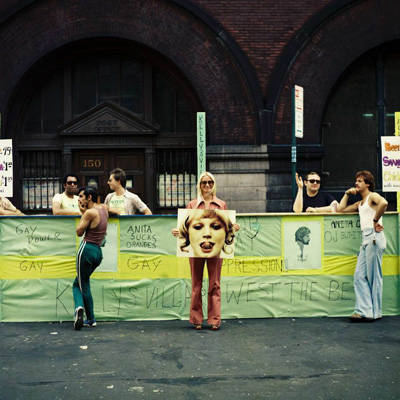 Natalia LL at the demonstration to defend the rights of sexual minorities, New York, 1977


I am not – and I do not think that Radziszewski would be in his turn – interested in determining whether the photographs should be treated as a work of art by Natalia LL, created during her stay in New York and dating back to 1977 (which is Lech Lechowicz's view) or whether they should rather be seen as pictures taken by a tourist – perhaps Andrzej Lachowicz, who may have simply captured an episode in the artist's stay in New York: her carrying her work to show it in yet another – not ready for this – gallery. In this latter approach, seen in the descriptions of the photographs in the publications by Ronduda and Toniak, the work is not placed within inverted commas, and is not read as a work of art. (9) What I find interesting in Natalia LL's photographs is what, I believe, fascinated also Radziszewski, who has always been interested in nonnormative elements in art and more broadly: iconosphere, and who has repeatedly probed and rewritten the visual from the perspective of queer. (10) What I mean here is the inimitability and the exceptional individuality of the photographs by Natalia LL, who – whether as a tourist or an artist – introduces into the visible issues related to nonnormative sexuality.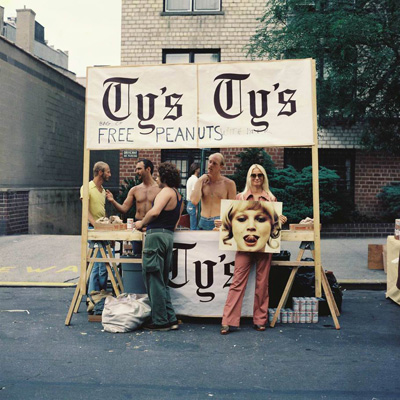 Natalia LL at the demonstration to defend the rights of sexual minorities, New York, 1977


The accidental pairing within one image of one of her photographs from the Consumer Art series and the participants of the festival-like demonstrations, which lasted for several days in June 1977, (11) these "permanent manifestations," as the artist – who, incidentally, authored a series titled Permanent Records (1970) – called them in a video interview conducted by Radziszewski, may provoke us to try and answer the question which concerned the latter: was America really not ready for Natalia LL and the "banana" iconography of the works she brought to New York? The photographs, "documenting a certain episode," also document a highly interesting confusion of orders: the public one, taking place in the streets and in a sense belonging to the masses, and the one belonging to the gallery, potentially accessible only to audiences frequenting galleries and actively involved in the art world – an order whose place was not in the streets but in specially allotted spaces, to which presentation of art was limited at the time.
Radziszewski's interviewees provide no unanimous answer to this question and differently interpret Leo Castelli's words to Natalia LL. This is because the question asked by the artist is not unequivocal, i.e. it is not clear which order and which America it is about. Is it the America whose definition consists in the words opening the Constitution: "We, the People…"? Or is this America a mental shortcut meaning the American art world? But, in turn, what does this mean? Was there one art world in the 1970s in New York, or perhaps these worlds, the worlds of the great players, the off and off off worlds were numerous? And so the unambiguous opinion of Marina Abramović, who was not in New York at the time, who arrived there much later, who listed the great names of the 1970s, including Vito Acconci, and who believed that America was ready because more than this had been seen much earlier, is contrasted with the opinion of… Vito Acconci. The latter is no longer as uncompromising as he used to be, and clearly distinguishes between radical works displayed in New York galleries and the kind of art that really was of commercial importance for galleries and in which art dealers were actually interested. AA Bronson seems to be trivialising the legendary art dealer's remark, turning it into an ironic joke. However, in the same film, Carolee Schneemann responds to this by pointing to the inherent sexism of the art market and stating that art made by women, art with an erotic potential, art exploiting the body was much more problematic merchandise than the art made by men. Schneemann's comment becomes additionally interesting when we juxtapose it with the nonchalant attitude of Abramović. Marina Abramović looks at art in an iconographic way, and by mentioning successive names intensifies successive image transgressions, i.e. transgressions within the image. Schneemann seems to be speaking from a completely different perspective: she is interested in the way an image is used, in the author's gender and sexuality, in what happens outside the image. So much for America in galleries. What was America doing beyond them?
America then was in two minds, which is well illustrated by the photographs of Natalia LL taken by Lachowicz and presenting a paradoxical situation: the artist is posing with her explicitly erotic pictures, for which, however, America was not ready, and she is doing so against the backdrop of the other America, which has stepped onto the streets to demand an end to the violation of their rights. This schizophrenic situation in which the photos were taken was, as it seems, emblematic of the public discourse of the time, which concentrated on the legal or illegal status of pornography. Shortly before Natalia LL's arrival in New York, in 1976, a controversial trial was held against the creators and actors involved in the production of the first pornographic film in wide release, i.e. Deep Throat (1972). The fact that the film was granted wide release may suggest that America ("We, the people…") was ready for a story about a woman who – just as in Natalia LL's cycle – is aware of her sexuality and openly speaks about her feminine, extragenital pleasure (the heroine's clitoris is located deep in her throat). On the other hand, the trial and the media storm surrounding the film, as well as the severe sentences – up to five years' imprisonment – facing the filmmakers and actors, indicated that on the contrary, America was not ready, indeed.


Natalia LL, Consumer Art, 1972


The "banana" iconography of the works which Natalia LL took with her to New York in 1977 and which she showed in consecutive galleries could not have been unknown to the New Yorkers who saw them. Even regardless of the – straightforward, as it seems – associations with Deep Throat, members of the artistic milieu must have been aware that the motif of eating a banana in a clearly erotic manner had been introduced to art by Andy Warhol in his two films: Mario Banana No. 1 (1964) and Mario Banana No. 2 (1964), where Mario Montez, in drag, peels and unmistakably erotically consumes a banana.
Radziszewski, who is aware of both this iconography and its genealogy, as well as of its significant dimension thematised e.g. by Douglas Crimp, present in his film, introduces another thread to it, namely Natalia LL, while putting her New York adventure aside. In this, second, part of the film, he no longer asks his interlocutors – abovementioned Crimp and Bronson, as well as Mario Montez, an actor in Warhol's Factory – about the Polish artist in New York, but instead focuses on the motif of the banana and the accessibility of Warhol's films in the 1970s in New York. Radziszewski poses questions and probes the subject: how much in common do Warhol's bananas have with those used by Natalia LL – as if he actually wanted to find out how much his own artistic praxis had in common with the other Polish artist and the American giant. Here his investigation acquires a semi-autobiographical quality.
It is not difficult to indicate how Warhol has inspired Radziszewski's works. Let me mention but a few most evident examples: his work with a model in a studio, explicit eroticism, drawing on the strategies devised by pop art such as e.g. repetition, which blend together and become part of the conceptual praxis. These very qualities – and let us not forget – the use of the motif of an erotically consumed banana link his art with the works by Natalia LL.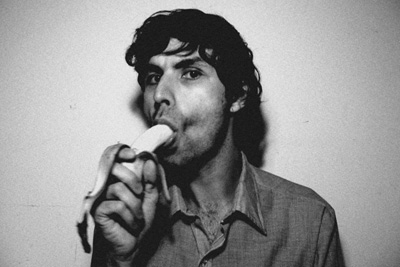 Karol Radziszewski, Taste It, 2006


Radziszewski's project which I hinted at to earlier, namely Taste It, organised in 2006 and promoted by a poster depicting a photographic self-portrait of the artist with a banana in his mouth, dressed in a characteristic shirt with a turned out collar, is an obvious reference to a 1982 photo of Andy Warhol where the American artist, wearing an almost identical shirt, is posing with a banana in his mouth, just like Radziszewski peering askance at the camera. Despite these obvious formal references to Warhol's picture, the authors writing about Radziszewski's project have observed that "[it] obviously refers to Natalia LL's Consumer Art" (12) and that "from the very poster announcing the project it was clear that it draws on Natalia LL's works." (13)
Both the cursory account of Dorota Łuczak and Magdalena Moskalewicz, and the learned survey on the research on Consumer Art that is essentially the text by Agata Jakubowska, for whom Radziszewski's project was only a pre-text, employ the mode of history of art as a relation of chronologically ordered iconographic references and… miss the bull's eye. (14)
The artist's autobiographically and self-reflexively charged history of art – which is exactly how I would interpret his project, which, in addition to the film made up of the interviews he conducted, consists of an archive of correspondence and materials which he found and which address issues he was interested in – is much more complex than the professional, academic art historians would wish. Radziszewski's story, stimulated by photographs "documenting a certain episode in New York" and Natalia LL's photographs from the Consumer Art series, for which one America was ready, while another was not, thematises and reconstructs a history of images of nonnormative eroticism and desire. It is a story set between eroticism and politics, between gay and feminist emancipation and sensual sublimation. By juxtaposing the story of Natalia LL's stay in New York with the narrative on the banana in Warhol's art, which in the Polish artist's film becomes the history of the gay and feminist movement, Karol Radziszewski generates his own genealogy and enters the history of art which he himself created.


Notes:
(1) The refrain of the titular song from Martin Scorsese's musical New York, New York, written by Fred Ebb.
(2) See "Wywiad Krzysztofa Jureckiego z Natalią LL" (Krzysztof Jurecki's Interview with Natalia LL) (2001/2002) [in:] Natalia LL. Texty. Teksty Natalii LL. Teksty o twórczości Natalii LL (Natalia LL. Texts. Texts by Natalia LL. Texts on Natalia LL's works), Bielsko-Biała 2004, p. 241.
(3) See E. M. Tatar, "O produkowaniu przestrzeni" (On Producing Space) [in:] Trzy kobiety. Maria Pinińska- Bereś, Natalia LL, Ewa Partum (Three Women. Maria Pinińska-Bereś, Natalia LL, Ewa Partum), Warszawa 2011, p. 11.
(4) This is not the time and the place to speculate why the artist does not attach much importance to her stay in the US. Perhaps – as I interpret it
at the moment – the reason for this is Natalia LL's ambivalent stance on the fact that her works from the 1970s and 1980s tend to be unequivocally associated with feminist art, which appears to logically follow from her acceptance of Tatar's reading of her work. Cf. E. Toniak, "Niemożliwa?" (Impossible?) [in:] Trzy kobiety, op. cit., p. 6.
(5) See "Malarstwo idzie krok w krok z fotografią. Fragmenty konferencji prasowej Natalii LL w dniu otwarcia jej wystawy w Centrum Sztuki Współczesnej, 30-go października 1998 roku" (Painting in Step with Photography. Fragments of Natalia LL's Press Conference on the Opening Day of her Exhibition at the Centre for Contemporary Art, 30 October 1998), "fotoTAPETA," http://www.fototapeta.art.pl/fti-nllpress.html (accessed on 30.10.2012).
(6) I mean here a project called Spróbuj tego (Taste It, 2006), which Radziszewski organised in Pies Gallery in Poznań in October 2006. The project consisted in encouraging visitors to take part in an erotic, video documented and photographed consumption of a banana.
(7) See Trzy kobiety, op. cit., p. 36; Ł. Ronduda, Sztuka polska lat 70. Awangarda (Polist Art in the 1970s. Avantgarde), Warszawa 2009, pp. 112–113.
(8) L. Lechowicz, "About Some Historic Media Episodes," Exit. New Art in Poland, http:// kwartalnik.exit.art.pl/article. php?edition=23&id=416&lang=en (accessed on 30.10.2012).
(9) If we chose to treat the photographs as a work of art, then, to be fully accurate, we would naturally have to refer to them as "Freedom Parade, New York," following the title with the parenthesised date 2007, which marks the year when the artist and art dealers recognised them as artistic works and produced them as such.
(10) Radziszewski is the founder and editor‑in-chief of a queer magazine DIK Fagazine, which attempts to create an archaeology of nonnormative desire, its visualisation and conceptualisation in Central and Eastern Europe. In 2012 alone he directed two films directly thematising nonnormative sexuality: Kisieland (2012), a film about Ryszard Kisiel, the publisher of the first Polish gay magazine in Poland, and MS 101 (2012), rewriting the history of the relationship between the philosopher Ludwig Wittgenstein and the poet Georg Trakl.
(11) This is what Douglas Crimp, interviewed in the film, says about the demonstrations. What Natalia LL thought to be a "Freedom Parade," and the publishers of Ronduda's and Toniak's books took for "a demonstration for the rights of sexual minorities," was in fact a series of manifestations lasting several days, maintained in an atmosphere of a picnic, where food and drink were sold and speeches by gay rights activists were made. The events were sparked off by a comment made by the singer Anita Bryant, who started a media campaign against a local ordinance introduced in several counties of a number of states that prohibited discrimination on the basis of sexual orientation.
Among the beverages sold during the demonstrations juice made of Florida oranges was certainly not available, as the product, advertised by Bryant in the 1970s, was boycotted. The boycott was joined by such celebrities as Barbra Streisand, John Waters, Jane Fonda and Paul Williams.
(12) D. Łuczak, M. Moskalewicz, "Zapraszam do zjedzenia banana – Karol Radziszewski w Psie" (Help yourselves to a banana – Karol Radziszewski in Pies Gallery), Obieg, http://www.obieg.pl/recenzje/3302 (accessed on 30.10.2012).
(13) A. Jakubowska, "Atrakcyjna banalność Sztuki konsumpcyjnej Natalii LL" (The Attractive Banality of Natalia LL's Consumer Art), Ikonotheka Vol. 20, 2007, p. 90.
(14) Admittedly, in the final section of her text, Jakubowska does mention that the project Taste It "appears to be akin" to Warhol's film Mario Banana. However, this does not change her overall reading of Radziszewski's work in any significant way. Also Adam Mazur, who wrote about the project and Radziszewski's self‑portrait with a banana announcing it, unfortunately omitted to interpret it in correspondence with its iconographic model, i.e. Warhol's own picture, and limited himself only to making reference of Natalia LL's Consumer Art. See A. Mazur, Historie fotografii w Polsce 1839–2009 (Histories of Photography in Poland 1839–2009), Kraków 2009, p. 465.