"Karol Radziszewski's Greetings from America!", Intertekst
By Wojciech Szymański
Originally published in Intertekst, Łaźnia Centre for Contemporary Art, Gdańsk, on June 2, 2014
http://www.intertekst.com/275_artykul.html?jezyk=en&id_artykul=275


1. Appendices
In my view, Karol Radziszewski's exhibition Greetings from America!, curated by Kamila Wielebska at the Łaźnia Centre for Contemporary Arts in Gdańsk in February 2014, was a paradox of sorts, for it seemed, at least to me, an expected discovery. I do not wish to say that I thus dismiss this exhibition and deem it unsuccessful – on the contrary. If I call it predictable, it is only because for quite a long time I have been following the artist's career and his 'American' interests. Neither is his artistic practice that posits the artist as an archivist/witness/historian anything alien or new to me. Moreover, I have already seen the film displayed at the exhibition, America Is Not Ready For This (2012), on several occasions. On the other hand, what makes the Gdańsk exhibition a kind of discovery for me is the context in which the film I know well began to work here: namely, in a context that stands in contrast to the previously employed display practices that assigned it the role of an appendix.
If we imagined the metaphorical – so to speak – contextual frame as a materially existing object consisting of four slats, two horizontal and two vertical, the image of Radziszewski's film – the image of the image – framed by it would be placed between the centre and the margin. In this optic, the central position would be occupied by Natalia LL and her American adventure, which took place in 1977 and which is here recalled by the artist. The margin, on the other hand, would be constituted by the exhibition context, where Radziszewski's story about the classic artist is commonly placed in the gallery or museum space.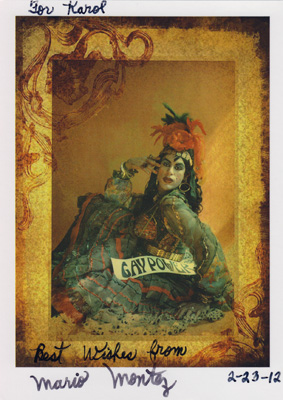 Karol Radziszewski, Greetings from America!, a postcard from Mario Montez, 2012


The frameworks thus outlined, where the image of the image becomes a footnote or an appendix, I have seen at least twice. The first time, at the artist's exhibition at the Wrocław Contemporary Museum at the end of 2012, where it had its premiere. This premiere, where Radziszewski's video work was the centrepiece of an exhibition that also included the museum's display cabinets with the artist's selection of archive materials (photographs of Natalia LL in New York AD 1977, 'Flash Art' magazine from 1976 with the famous cover showing Natalia's work, a picture of Andy Warhol with a banana, and many others), was just an appendix to the huge, retrospective and thematic exhibition called Where is PERMAFO? where Natalia LL, understandably, was the major star. This indexical nature of the work, in the sense that Radziszewski's image was parallel to LL's image, was thus consolidated by the authority of the institution to continue its life as an image of the image.
The second time I encountered this kind of situation – namely displaying Radziszewski's film as an image of an image – was exactly a year later at the lokal_30 Gallery in Warsaw, during a very significant exhibition of Natalia LL's work called Doing Gender. Radziszewski's video work was, yet again, placed in a separate space, not more than a vestibule to the main gallery space, as an appendix to the presentation of the work by LL. As one of the reviews informs us, 'Karol Radziszewski's video work was displayed in a side-room, which is beneficial to Natalia LL's work, as well as to the film itself. The film can be treated as an introduction to the work of the former, or as an epilogue to it' (1). I cannot agree with the reviewer. The film was indeed shown in a side-room, yet it did not constitute either an introduction or an epilogue. What Radziszewski's film became, thanks to this 'side-room', could be defined in terms of an appendix, which neither opens (like an introduction would), nor closes (like an epilogue) anything, and can at most be treated as a note in the margin of the (allegedly) central film by Natalia LL, being not an image, but – to emphasise yet again – merely an image of an image (2).
This is my point of reference for my reading of Radziszewski's exhibition in Gdańsk, which, although in a sense predictable for me, nevertheless also marked a big discovery. To be more precise: a new discovery of Radziszewski's image, an event where the image was recovered.
The restitution of the film as an image took place by means of an introduction of new contexts that eliminated the traditional frame described above. Next to America Is Not Ready For This, Radziszewski showed two new video works in Gdańsk in the form of interviews that he had conducted with the cult actor from Warhol's factory, Mario Montez, and the equally celebrated Polish artist and teacher, Grzegorz Kowalski. Radziszewski's two film interviews that premiered in Gdańsk are conversations with figures that are very significant for him as an artist, and whose narratives in an important way complement the widely exhibited film inspired by Natalia LL's journey to New York. The already deceased Montez (3), who also featured in the film about LL's journey, was not only a protagonist in Warhol's films, but most of all a witness to the events that took place in the legendary Warhol circles, especially in the 60s, a milieu that Radziszewski has always been interested in. Kowalski, on the other hand, Radziszewski's teacher the Academy of Fine Arts in Warsaw, features here not only as a master and teacher, but also as an equally important artist and conversation partner, providing a kind of report on what he had seen in New York during his visits in 1968 and 1970 (4).
Locating the film about Natalia LL's journey in this context posits it as one of three film images of equal status, and the viewer's attention is directed predominantly at: (I) queer aspects of the New York art world in the 1960s and 70s (Montez) as well as (II) the aspect of the presence/absence of Polish artists – understandably more as outside observers than insiders – in the art circles of New York (Kowalski). Hence, the viewers are offered access not so much to Natalia LL's story in New York, or to a narrowed-down reception of the film inspired by this visit, limited to an attempt at a reconstruction of her stay and a 'special homage to Natalia LL' (5), but rather to an insight into a wider spectrum of Radziszewski's artistic interests. Radziszewski, who, being both gay and a Pole, is something close to a national outrage, is also a researcher of a non-normative (art) history (6), trying to find his position in the triangle set by the statements of his interlocutors and protagonists of film recording at the same time.
An attempt to find his own place (7) – for himself as an artist and for his art – with the help of Natalia LL, Grzegorz Kowalski and Mario Montez is both a historical project, as well as an autobiographical one. This is very clear in the context of the Gdańsk exhibition and the contextual framework it constructs. In this new framework of the eponymous Greetings from America!, partly as tourist and partly conventionalised to a phrase from a colourful holiday postcard (8), sent by the artist and his interviewees to the public, there is included a phrase: 'America Is Not Ready For This'. This phrase has been read solely as an allusion to Natalia LL. However, the treatment of this phrase as evidence that the film inspired by her journey is actually a film about her, is not so unambiguous.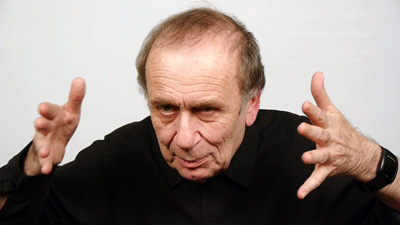 Karol Radziszewski, America Is Not Ready For This, film still, 2012


2. 'America is not ready for this'
The above-quoted phrase, which according to Natalia LL was uttered by Leo Castelli himself when during her stay in New York she brought her works entitled Consumer Art (1972-1975), Post-Consumer Art (1972-1975) and Artificial Photography (1975) to his gallery, becomes here, with the new context of the figures of Montez and Kowalski, something much bigger. Radziszewski is no longer an artist who during his scholarship in New York, from the perspective of 2011, when he was in the United States, follows Natalia LL during her trip – also undertaken as a scholarship – but 34 years earlier, thus being her/repeating her gesture. Through Montez and Kowalski – a gay (9) man and a Pole – he rather poses the question of whether America would be ready for his Polish/Central-Eastern European art and whether Poland is ready for his gay art. This question is ambiguous to the point where one would be naïve to attempt to answer it in an unambiguous and 'truthful' manner. It is very clear when in this film the artist confronts often contradictory statements by Marina Abramović, Vito Acconci, AA Bronson, and Carolee Schneemann, constituting answers to the question (10) thus posed.
The joke about the fact that the question is posed this way rests in the use of a mental shortcut and a lack of information about which America is actually implied and which New York art scene of the 70s is being discussed. Consequently, artists with diverse institutional positions at that time provide answers presenting their own perspective (11), without offering a satisfactory conclusive answer. A possible answer that would emerge after combining numerous accounts given in the film for this question, if reduced to one sentence, would probably sound slightly paradoxical: 'America was not ready for it yet, and at the same time it wasn't ready for it any more'. I do not mean here any reservations related to prudence and obscenity, but the rules of the art world itself, especially its most complex part – the market.
This 'still un-readiness' can be understood in a simple way: it is the situation when the world of commercial galleries is not ready yet for a given artistic invention, because it is too unchangeable, conservative and/or engaged in showing those artists who ensure quick and safe money. This was the world, as suggested by Natalia's statement recorded by Radziszewski, of all the places she visited during her stay in the US to attract American gallery owners to her work.
The seemingly paradoxical statement I formulated above is not meant to show that one America (the America of commercial galleries) was not yet, and the other America (the alternative scene) was no longer ready for this. What I mean is that, as a matter of fact, one and the same America was not yet and no longer ready, at the same time. I could explain this situation – again, risking a paradoxical statement – taking Castelli as an example. He did utter the above quoted phrase. It is not out of the question, if one looks at what Castelli's gallery showed in the 60s, that if an artist from Poland went to New York instead of Kowalski and visited Castelli in 1968 he would have been ready to show her work, at least in the Warehouse that existed until 1971 (12). Castelli (America) was, then, still unready and no longer ready at the same time, which was determined not so much by choice or taste, but by economic interests.
A different matter altogether is that at the very same time galleries from Lower Manhattan and non-institutional, alternative artist-run-spaces were, I would risk the hypothesis, quite ready for what Natalia LL had to show. An open question is whether the artist herself was ready for such an America? Characteristically, at the exhibition in Gdańsk Radziszewski decided to present and contrast the recorded interviews with Natalia LL and Grzegorz Kowalski who visited New York in the key moments for art in the second half of the 20th century, as well as its institutional contexts, movements that I would not hesitate to define as two borderlines of contemporaneity.
The year 1977, when the Polish artist visited New York and when – as I suggested – America was ready for her, was, after all, the breakthrough moment of recognition, when in the anti-institutional and alternative space of Lower Manhattan the art historian and critic Douglas Crimp (also making a guest appearance in Radziszewski's film), organised the seminal exhibition called Pictures. This exhibition, featuring works by five artists, including Sherrie Levine and Jack Goldstein (13), took place in 1972 in an alternative Artists Space run by Irving Sandler and Trudie Grace. The place was supposed to work as a counterbalance to the official art world run by institutions and their curators. It was also the place where in 1977 our contemporaneity began. The breakthrough exhibition curated by Crimp, as well as its aftermath, the later activities of the Metro Pictures gallery run by the former director of Artists Space, Helene Winer, helped build the position of the now recognised and art historically analysed Pictures generation (14). This generation of artists, who dominated American art in the first half of the 80s and were defined as postmodernist, did away with the hegemonic narrative of the dematerialised and anti-representative – anti-Pictures – form of Conceptual art practice developing since the end of the 60s until the second half of the 70s. The turn towards the images that emerged during Crimp's exhibition, although still done undertaken from within the Conceptualist paradigm, included in its realm the images that the iconoclastically inclined Conceptualism rejected: film images (Cindy Sherman), photographic images (Jack Goldstein), advertising images (Richard Prince), and press images (Barbara Kruger). These were used, reworked and deconstructed in the course of practice of appropriation of images by other images.
If Natalia LL's two iconic series, Consumer Art and Post-Consumer Art, which she brought with her in 1977 to New York, were read in the context of this new appropriating practice that orchestrated the pictorial turn, I suggest it may turn out that these works, previously located in the context of the classic Conceptualism of the 70s, would gain much more in the new context. These sexy, perverse, ironic, funny images by Natalia LL, not without some element of critique and frivolity, as well as the pictures of the artist that her then husband took during their stay in New York (15), recall film images (for instance Deep Throat from 1972, as well as other pornographic films), but – just like, for example, famous photographs by Sherman – they do not come from there. These images reach also to the language of popular culture and strategies of multiplication discovered by Andy Warhol in the 60s and then dismissed by the conceptual neo-avant-garde in the 70s, only to come back in the practice of the Pictures generation. I suggest that the associations with Deep Throat (16) as well as with Warhol – especially his design of the cover for Andy Warhol's Velvet Underground featuring Nico (1970) with the motif of multiplied female lips, sensuously opening and closing, sucking Coca-Cola with a straw – must have been obvious for the New York art world in 1977. In this optic, the readiness or un-readiness of America for Natalia LL's proposition could actually be anchored not so much in the motif of prudery of the New World, as suggested by the artist in Radziszewski's film, but rather in the generational difference – as trivial as it may sound. While the Pictures generation means artists born in the 40s, people in their thirties at the time, Natalia LL, born a decade earlier, met and knew artists born, like her, in the 30s, who debuted earlier than the pictorial revolution at the end of the 70s.
In an equally significant moment for the arts, though happening almost a decade earlier, New York was visited by another of Radziszewski's protagonists: Grzegorz Kowalski. The interview with Kowalski that Radziszewski recorded is devoid of many features of a documentary film and the work on the archive used in America Is Not Ready For This. Kowalski presents himself as a verbal artist only too aware of his own linguistic limitations, working with and at the same time on language, fully conscious of systemic and institutional ties, and tells the story of his two visits to the States. In contrast to Natalia LL, Kowalski did not bring his work to New York to take it from gallery to gallery, hoping to attract attention. Instead, just like Allie Parker from Jim Jarmusch's Permanent Vacation (1980), he treated his stay in the capital of the world of the 20th century like a tourist visit of a European flâneur: he observed the world of big galleries, attended film screenings in museums, visited antique stores, and witnessed the artistic life which then – between 1968 and 1970 – had taken to the New York streets in a mass movement. This model of the critique of institutions, which would come back in the States in the 80s as institutional critique, and in Poland in its new political system in the 90s, with Kowalski as its main driving force, to become a movement called critical art, seems to have been a particularly formative experience for the artist. And although Kowalski focuses most of all in the interview on the political aspect he is most into (protests against the Vietnam war, the counter-culture of Woodstock), artistic context is equally important here.
1968, the year preceding the beginning of our fight initiated with Stonewall, marked an artistic uprising against the racist, sexist and imperial art world and its institutions. It was after an important exhibition at the Whitney Museum of American Art, titled The 1930s: Painting and Sculpture in America, where no work by a black artist was shown, the Black Emergency Cultural Coalition was founded, which later organised a counter-exhibition at the Studio Museum in Harlem called Invisible Artists: 1930. It was the year when the Cityarts Workshop was initiated, promoting their motto 'from gallery to the streets'. A year later, the famous AWC – Art Workers' Coalition was formed as a protest against the violent curatorial and exhibition practices implemented by the Museum of Modern Art. Moreover, an important platform for Latin-American art, ignored by the contemporaneous exhibition discourse, was formed, including El Museo del Barrio and El Taller Boricua. Later, Jon Hendricks and Jean Toche's Situationist and partisan initiative – GAAG, or Guerilla Art Action Group was founded, next to the feminist WAR, Women Artists in Revolution. Finally, in 1970, as an answer to the events of the two preceding years, alternative initiatives emerged, such as 55 Mercer, 112 Workshop, WSABAL (Women Students and Artists for Black Art Liberation) and many, many Others (17).


3. Who's afraid of Karol Radziszewski?
The confrontation that the Gdańsk exhibition offers of the two – filmed and edited – talking heads: of Grzegorz Kowalski – a political animal, and Natalia LL – a coquettish avant-gardist is, as I already noted above, an action that provides the restitution of Radziszewski's image and frees it from its previous trivial display contexts. In this kind of reading, equally important proves to be the third of the films shown in Gdańsk, namely the interview with Mario Montez. This film directs the viewer's attention towards the non-heteronormative aspects of the project, which I defined as a crucial, sexual, gay, autobiographical component, introduced by Radziszewski next to the other two – of being a Pole and being an artist. Radziszewski is clearly interested in the two breakthroughs, two – as I referred to them quoting Mieczysław Porębski – boundaries of contemporaneity: the end of the 60s with its omnipresent, emancipation-oriented, anti-institutional activity within Minimalism and Post-Minimalism, then conceptualising itself and shifting towards performativity, as well as the end of the 70s, with its rediscovery of the emancipatory role and possibilities of image in post-Conceptual practice. The simultaneous introduction of the figure of Montez leaves no doubt as to which emancipatory movement, subversive in its use of images, and emerging in New York at the end of the 60s, Radziszewski actually has in mind.
In his artistic practice, Radziszewski often makes use of appropriated and/or found images, and by repeating them, he deconstructs them and uses them in a new context. Such an action is taking places in America Is Not Ready For This, where at the beginning and end of the film he plays out a re-enactment of the banana-motifs from Warhol's and Natalia LL's art. In the course of his 'artistic career', he has always located himself in positions alternative to the institutional art world. He has been present in the artistic discourse and exhibition circuits, at the same time preserving his position of a freelancer not linked with any commercial gallery and using his own resources to publish his faggot-art zine. The game he plays with the institutional art world and its rules, an institutional critique of sorts, whose history Radziszewski traced in the exhibited films and told with the voice of their protagonists, deserves, however, a separate study.
What I mean to do in the meantime is to locate the Gdańsk exhibition within the framework of institutional critique and to show that the exhibited works are anything but images of talking heads. And this is how they were classified by the Polish art world – in the only form acceptable to it – which subsequently labelled them 'images of images: in the footsteps of the old masters' and attempted to show them in this kind of categorised way, creating an image of an image of an image. If the images shown here are images of an image, they are actually one where Poland 'is no longer' and at the same time 'still not' ready for the images suggested by Radziszewski and his history told by means of the Gdańsk exhibition. In this sense, this image is an image of absence.
It is because Poland, just like Leo Castelli in 1977, has already experienced the episode of a revolutionary and alternative space of liberation. We have witnessed and remembered the problem of non-normativity in this decade during the action Let Them See Us (2003) and the major exhibition at the National Museum in Warsaw called Ars Homo Erotica (2010). What do you want then, the revolution has already happened. It is not ready yet, with all the poverty and anodyne nature of the Polish institutional art world, dreaming, like the rest of the country, its dream of future glory, with all its feudal relations, the lazy complacency of the vassals who ceded all the prerogatives and responsibilities on one institutional hegemon/suzerain – considered infallible – and its continuous actions to prevent any other discourses apart from the institutional one from having any voice. Most of them think that the revolution has already happened, while the suzerain still does not think about it, being occupied with constructing an affirmative institutional discourse around him, considering – as it seems – the forms of institutional critique a historical phenomenon. In this sense, gays have already roamed the earth, and perhaps they will again, one day. But not yet.
Significantly, the same evening that Karol Radziszewski's exhibition opened in Gdańsk, the suzerain in Warsaw opened at the same time a huge selection of contemporary Polish art entitled As You Can See. What one cannot see is institutional critique or the existence of queer and/or gay discourses in Polish art. And yet, they do exist, as an image of absence. This way, Radziszewski's Greetings from America! becomes at the same time greetings from Poland: always nevermore and not yet.
I greet you, then, from Poland, meaning never. Sincerely Yours.


Notes:
(1) K. Wąs, Natalia LL, Doing Gender, 'Szum. Sztuka Polska w Rozszerzonym Polu', No. 3 2014, p. 126.
(2) Let me name here one more presentation where Radziszewski's film works on the above specified terms. It was an exhibition of Natalia LL's work titled Natalia LL – Intimate Spectacle at the Arsenal gallery in Białystok in the second half of 2013.
(3) The recording of the conversation with Montez took place in Berlin several months before the actor's death.
(4) An important impulse that seems to have encouraged Radziszewski to conduct an interview with Kowalski about America was an exhibition titled American Stills (2013) at the Warsaw Magnetic Fields Gallery featuring Kowalski's work inspired by his American visit, as well as archive materials relating to this event.
(5) P. Stasiowski, America Is Not Ready For This, 'Jednodniówka Muzeum Współczesnego Wrocław' 30.11.2012, p. 1.
(6) I mean here the artist's longest art and research project that results in the publication of 'DIK Fagazine', with successive issues appearing over the last ten years. Its aim is to describe and present the non-heteronormative world – mainly the off art scene – of East-Central Europe. I would define the magazine's profile using Douglas Crimp's term queer before gay, which, perhaps, is even more cogent as a description of this part of the world than the American circles discussed by Crimp. The kind of understanding of Radziszewski's work that I suggest should explain why he is not a gay artist, nor is his art gay art, though both he and his work are often defined using these terms.
(7) I do not mean here any kind of permanent and unchangeable position, which – in the game played by the art world – is constantly changing and always constructed anew. With the use of this mental shortcut, I rather meant to imply an attempted mapping of shared places, a kind of genealogy built on the basis of kindred by choice.
(8) The printed materials used to promote the Gdańsk exhibition had a postcard format with the picture of Mario Montez and a handwritten dedication to the artist.
(9) I write this notion as crossed-out because I doubt whether it is adequate either in reference to Mario Montez who – if we believe Douglas Crimp – did not use to, at least in the 60s, define himself by it, or in its adjectival form as a definition of Radziszewski's art. I know that his art is defined this way at present, but I treat this as a semantic regime, i.e. a system of meaning control.
(10) More on this film in my New York, New York, a text exclusively dedicated to it. See: W. Szymański, New York, New York, 'Jednodniówka Muzeum Współczesnego Wrocław' 30.11.2012, p. 4.
(11) These are (to provide a generalising summary): a non-feminist perspective from an artist from outside New York (Abramović), a feminist perspective from an artist from New York (Schneemann), a gay perspective from an artist from New York (Bronson), and a feminist perspective from a heterosexual artist from New York (Acconci).
(12) By 'Warehouse' I mean Leo Castelli's Warehouse, or the space that he opened in December 1968 with an exhibition 9 at Leo Castelli, curated by Robert Morris. This seemingly alternative space operated until the beginning of the 70s. The postindustrial space in Lower Manhattan was used to house exhibitions by artists who were 'still unready' for a show in a 'real' gallery Uptown.
(13) Other artists taking part in the exhibition were Troy Brauntuch, Robert Longo and Philip Smith.
(14) See. J. Ault, A Chronology of Selected Alternative Structures, Spaces, Artists' Groups, and Organizations in New York City, 1965-85, in: J. Ault (ed.), Alternative Art New York 1965-1985: A Cultural Politics Book for the Social Text Collective, (New York – Minneapolis – London 2002), p. 35-36.
(15) I mean here photographs taken by Andrzej Lachowicz, presented at Gallery 86 in Łódź in 2007/2008 as works by Natalia LL, titled New York, the Parade of Freedom. The pictures were later reproduced on many occasions, in Łukasz Ronduda's Polish Art of the 70s. Avant-garde (2009), and the catalogue of a Warsaw exhibition Three Women (2011). I mention briefly the problem with seeing these photographs as works made in 1977 in my text for Radziszewski's Wrocław exhibition. Of course, their status as works of art is acceptable, yet they should be considered as made in 2007, when they were first shown as works of art, in a gallery context, and thus conforming to the institutional definition of a work of art. See: W. Szymański, New York...
(16) See: W. Szymański, New York...
(17) See. J. Ault, A Chronology…, p. 19-31.