Hyacinth (2019-2020)
Series of paintings, acrylic on canvas.
The "Hyacinth" campaign was a mass operation conducted in the years 1985–1987 by the Civil Militia aimed at gathering information about Polish homosexuals. One of the many reasons given for the campaign was to counteract the AIDS epidemic, combat prostitution, and protect against criminals but also to collect compromising materials which could help recruit agents. The multifaceted nature of the campaign is being increasingly raised by researchers of the event, who claim that not in all Polish cities the "suspects" actually suffered oppression.
The "Hyacinth" by Radziszewski is the first visual presentation of this historical event in Polish iconography. In telling the story, the artist again resorts to experimenting with the tradition of European painting – this time, however, he makes a reference to the leading representative of the 1980s new expression, A.R. Penck. Queering the style of Neue Wilde, Radziszewski draws on his brutality and exceptionally strong expression filling the canvas with drawings from the "Filo" mag. Associations with cave paintings lead our imagination towards the amateur sexual graffiti found in public toilets. Under a seemingly promiscuous and entertaining façade, the artist hides a violence-filled politicalmotif – discrimination on sexual grounds.
From curatorial text by Michał Grzegorzek, "The Power of Secrets" exhibition, CCA Ujazdowski Castle, Warsaw, 2019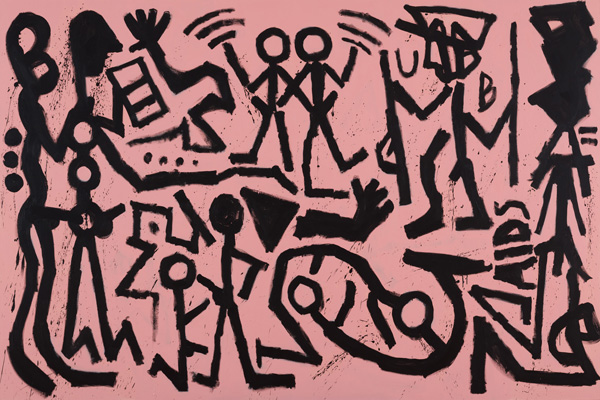 "Hyacinth", 200 x 300 cm, 2019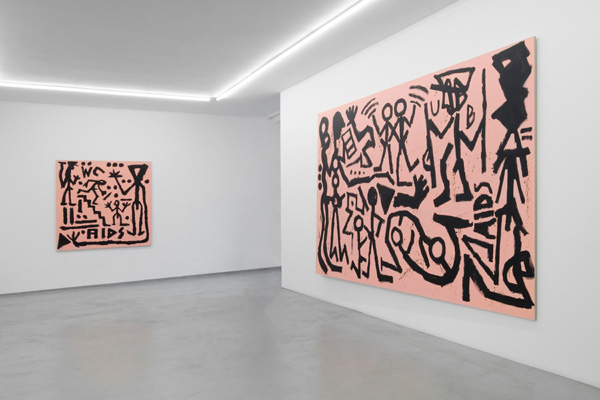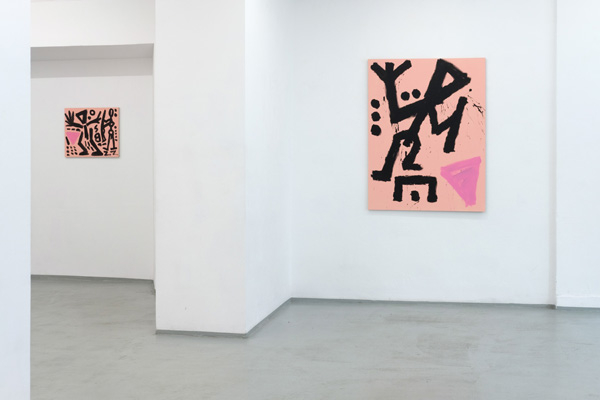 "Hyacinth" exhibition installation view, BWA Warszawa, Warsaw (5 – 12 September 2020)
Photos by Bartosz Górka